Balloon EXperiments for University Students
The REXUS/BEXUS programme was created in 2007 thanks to the cooperation of DLR and SNSB (now SNSA). Today the programme allow students from Universities and higher education colleges across Europe to develop their own experiments on different research areas such as atmospheric research, fluid physics, magnetic field, materials science, radiations physics, astrophysics, biology and also on technology demonstrators.
Each year, two BEXUS balloons are launched from SSC, Esrange Space Center in northern Sweden.
Payloads are assembled on a medium-sized gondola (1.16 m x 1.16 m x 0.84 m). The total lifted-mass is approximately 300kg with payload weighing between 30 and 112kg (which means generally 4 student experiments per gondola). The balloon, a 12SF from Zodiac aerospace, is filled with helium gas.
The flight of the BEXUS is composed of several steps:
The

launch

, the experimental payload housed in the gondola is held by a launch vehicle called HERCULES and is released when the balloon inflation is completed and the flight line lifted
The

ascent phase

, the nominal ascent speed is 5m/s. This phase lasts approximately 1.5 hours depending on the final float altitude
The

float phase

, the altitude is most of the time between 25-33 km and can last between 1-5 hours (depending on the float direction and wind speed)
The

descent phase

(un-piloted descent). The gondola and flight line descend under a parachute
The

landing

(around 8m/s)
And the

recovery

of the payload
Click on diagram for bigger view
Esrange Space Center
Esrange Space Center is located in northern Sweden, 45 km from the town of Kiruna at 67oN, 21oE.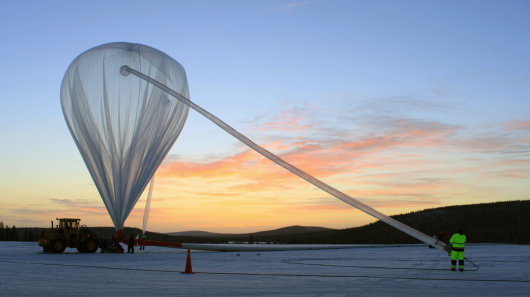 ---
The REXUS/BEXUS programme is realised under a bilateral Agency Agreement between the German Aerospace Center (DLR) and the Swedish National Space Agency (SNSA). The Swedish share of the payload has been made available to students from other European countries through a collaboration with the European Space Agency (ESA). EuroLaunch, a cooperation between the Esrange Space Center of SSC and the Mobile Rocket Base (MORABA) of DLR, is responsible for the campaign management and operations of the launch vehicles. Experts from DLR, SSC, ZARM and ESA provide technical support to the student teams throughout the project. REXUS and BEXUS are launched from SSC, Esrange Space Center in northern Sweden.